UPDATE: November's winner for Beet n Squash YOU! was a tie! The winner was yours truly and Lisa of Lisa is Cooking. Head over to She Simmers and check out all the other entries. Never knew you could do so much with beets. December's battle is fennel. Come join in on all the fun!
It feels good to be blogging again after a long break away from the site. Thank you to those who always supported my little blog and I look forward on sharing many recipes, photos, and stories with you this month. I haven't forgotten about my post on my summer trip to China. It will be posted this weekend. Promise!
Although I was away from the blog, I remained active on Twitter and when both Leela of She Simmers and Mel of Bouchon for Two tweeted about Beet n Squash YOU!, a monthly food fight competition, I just had to participate. The rules were simple. Post a recipe on this month's chosen vegetable, which are beets for November, and may the best recipe win.
Before I even started peeling my beets and getting my hand stained, I was trash talking. I was telling fellow participants Lan of Angry Asian Creation and Don of foodiePrints that I was going to "beet" their dishes down. You know I'm getting serious when I'm using a corny news broadcaster like pun. In truth, I didn't know crap about beets. Never cooked with one before and I don't remember the last time I even order it in a restaurant.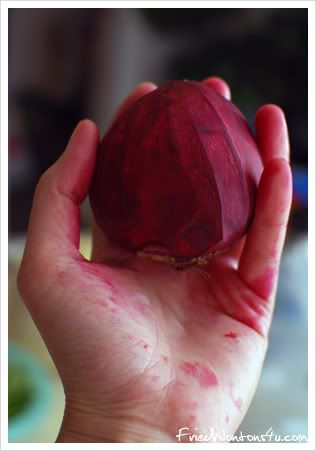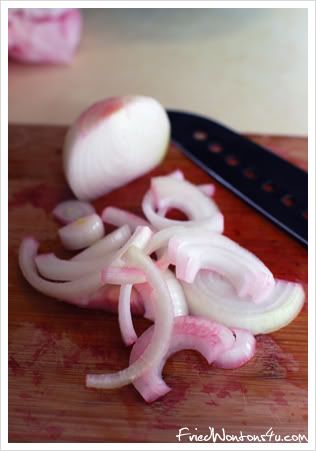 It was time to reintroduce my taste bugs to beets. I cut and boiled a few pieces and found it tasted similar to a radish, but much sweeter. Many different types of dishes came into my mind. Dessert was the first idea. Maybe a beet and persimmon tart? But I was worried how well the texture of the beets would go with the persimmons. My second idea was a beet sorbet, but I decided that would be my plan B idea instead. As my fingers turned redder and a few more bites later, I couldn't stop thinking how much it tasted like a radish to me. I decided I would use it as a substitute for radish in one of my favorite Chinese dishes, braised beef.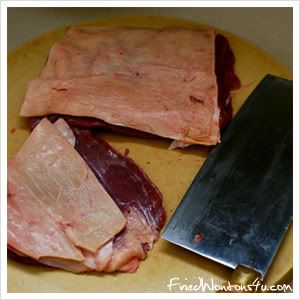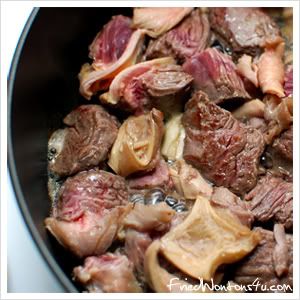 I started out with the basic ingredients for braised beef: beef, chee/chu hou sauce, rice wine, star anise, soy sauce, sugar, and radish. Instead of adding sugar and radish, beets would be the replacement and I also added onions.  I was not sure how well the chee/chu hou sauce would work with the radish, but it came out pleasantly good.  The radish added a natural sweetness and a lovely dark ruby red hue to the dish. The recipe needs to be refine a little more, but it's a good start and a great dish for fall's chilly nights.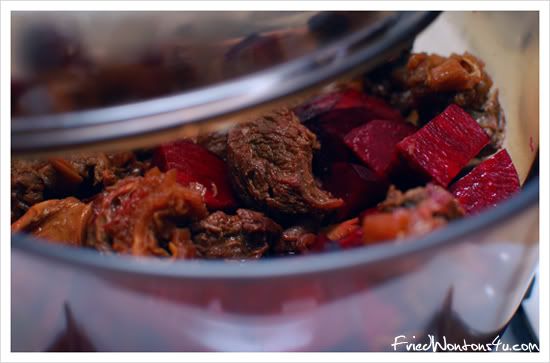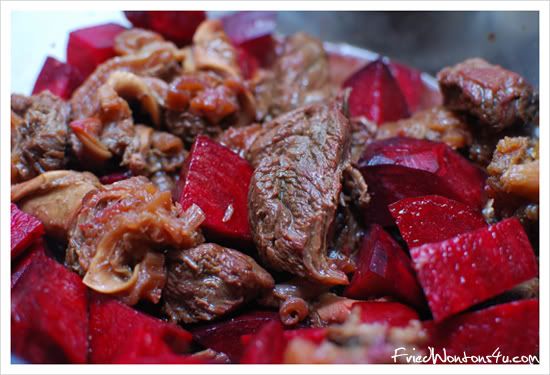 Braised Beef with Beets

Beets did not only added a natural earthy sweetness to the beef, but it also gave the dish a lovely warm ruby red shade. While I used a crock pot to tenderize the meat in the beginning and switched over to stove cooking towards the end, this dish could be cooked solely on the stove.




Ingredients:

2 lbs braising beef with the tendon. You can purchase this in most Asian grocery stores.

1 large beet

1 small white onion

1 tbsp oil

4 large cloves of garlic

1 tbsp rice wine

3 tbsp chee/chu hou sauce

2 tbsp soy sauce

1 star anise

2 cups water or more if needed

2 pinch of kosher salt

1 sprig of parsley for garnish (optional)

Cut the beef into 1 ½ inch cubes.

In a large pan, add 1 tbsp of oil. When the pan is hot, add the beef and 4 large cloves of peeled and smashed garlic cloves. Brown both sides evenly.

When both sides are browned add in 1 tbsp of rice wine, 1 cup of water, 2 tbsp of chee/chu hou sauce, 2 tbsp of soy sauce, 1 star anise, and 2 pinches of kosher salt. Cook until the sauce is bubbling.

Transfer the beef into a crock pot and cook for at least 3hrs to 4hrs until tender. If you don't want to use a crock pot, you can also tenderize the beef on the stove. Transfer the beef into a pot and simmer on low flame.

Peel and cube your beets into 1 inch cubes.

When the beef is tender, transfer it from the crock pot and into a pot on the stove. If you tenderized the beef in a pot, just turn your heat up.

Add in the beets, 1 cup of water, and 1 tbsp of chee/chu hou sauce. Cook until the sauce is bubbling, turn the flame to medium and simmer for another hour or until the beets are tender.

Serve with steam rice and garnish with Chinese parsley.

Serves 2
Related posts: