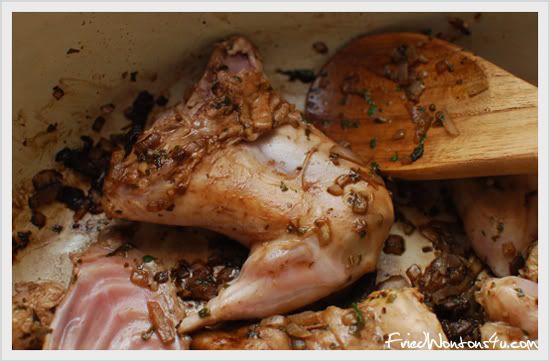 My tiny kitchen cabinets are not bursting at the seams, it has already exploded. As I started to cook more throughout the years I've accumulated a large collection of print out recipes, subscribed to a handful of food magazines, stacks of cookbooks, a mountain of baking trays, pans, seasonal molds and cookie cutters I regretfully bought, and boxes of neglected kitchen gadgets that includes a juicer, an ice cream sandwich maker, and a fondue kit. I have a feeling I will bust out the fondue kit in the near future though, hopefully. I know my small kitchen can't handle any more cooking thing-a-ma-jigs I believe I desperately need, but tell me how could I turned down a Le Creuset French Oven. It's simply not possible.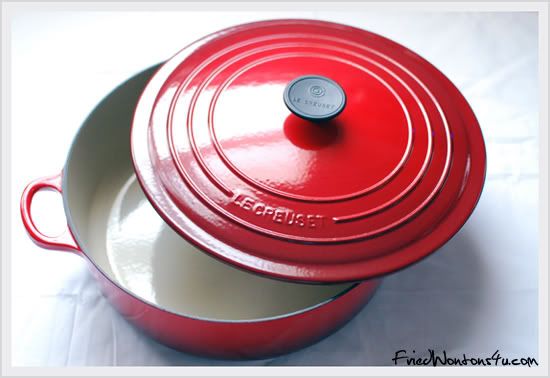 Owning a Le Creuset enameled cast iron cookware is something that has always been in the top position of my "Must Have, But Can't Afford Right Now" cookery list. It sits right below a KitchenAid Professional 600 Series Mixer (which I now happily own since last year) and right above a Vita-Mixer blender (someday you will be mine). I received the Le Creuset as a gift this pass Christmas and couldn't wait to put it to work. I thought about stew and pot roast recipes, but I wanted to cook something I never made before and rabbit instantly hopped into my mind.
The first and probably the last time I ever had rabbit was way back when I was a kid. My aunt had stir-fried it with vegetables and told me to give it a try. She didn't tell me I was about to chomp on a white fluffy bunny until it was too late for me to change my mind. It tasted liked chicken and after that I don't think I ever had it again. It's not because it wasn't good, or I felt like they were too cute to be eaten, but rabbit is not something I see on the menu of many restaurants and growing up my parents didn't cook with it. It was time to give rabbit another try.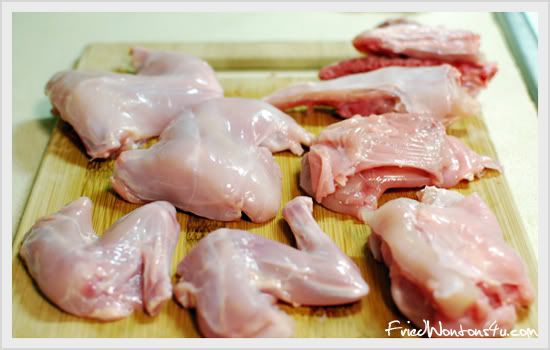 I was excited and was ready to go to this store nearby where you can pick your own live chicken or rabbit and they would kill and clean it for you. Easier said than done! I chickened out. Walked in and the first thing that hits me is the pungent stench of chicken droppings. That I can get by, but what really gave me the shivers were the crates of rabbits that were five feet in front of me. There were about 5 of them, so fluffy and white and as big as my coach pillows. I just couldn't do. Went to my local market instead and bought one that was already dead and cleaned.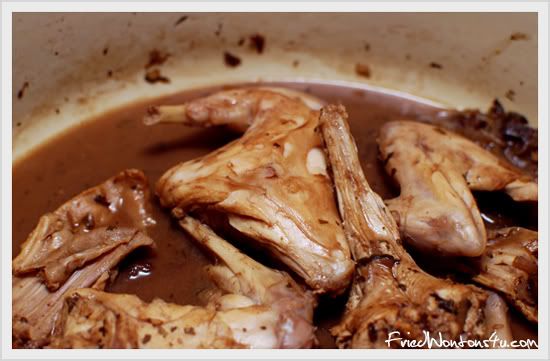 I found the recipe on Saveur and it's a pretty simple and easy dish to prepare. I only wish I had read it thoroughly before cooking it and made extra sauce for it. Some how I skipped the part where you have to marinate the meat overnight, but despite my mistakes the dish still turned out really good. Saveur also has a great step-by-step instruction on how to butcher a rabbit. I followed the guide and had the rabbit divided up quickly. Instead of serving it with polenta, I went for egg noodles. Although the sauce was really flavorful and tasty, and this is a recipe I would try again, but maybe with chicken instead. Rabbit meat just doesn't excite me. Maybe they are too cute to eat after all.
Armando's Braised Rabbit
From Saveur.com

The recipe suggest serving it with soft polenta, but I used egg noodles instead to turn this this into a hardy meal. Regardless of the side dish you choose, make sure to have enough of the rich flavorful sauce. Just double up on all your ingredients except for the rabbit meat.




Ingredients:
2 3-lb. whole rabbits
1/2 oz. dried porcini mushrooms
1 small yellow onion, peeled and finely chopped
1 clove garlic, peeled and minced
2 tbsp. chopped fresh parsley
1/2 tsp. dried oregano
2 whole cloves
1/4 cup extra-virgin olive oil
1/4 cup balsamic vinegar
1 bay leaf
Salt and freshly ground black pepper
1 cup dry white wine
1 cup Chicken Stock




Lay each rabbit on its back. Using a sharp knife, cut off hind legs at the joint near the backbone. Cut under shoulder blades to remove forelegs from rib cage. Trim off rib cage on either side of loin and discard, then trim neck and tail ends of loin and discard. Cut loin crosswise (through backbone) into 2-3 pieces.

Put porcini in a small bowl, cover with warm water, and soak until soft, about 30 minutes. Lift porcini from soaking liquid with a fork and finely chop; discard liquid. Transfer porcini to a large nonreactive bowl and add onions, garlic, parsley, oregano, cloves, oil, vinegar, and bay leaf, and season to taste with salt and pepper. Mix well. Add rabbit pieces and rub with marinade. Cover with plastic wrap and refrigerate overnight.

Heat a large skillet over medium-high heat, add rabbit with marinade, and sauté until meat is brown on all sides, 5-10 minutes. Add wine and cook until alcohol has evaporated, about 2 minutes. Stir with a wooden spoon, scraping any brown bits from bottom of pan.

Add chicken stock and bring to a simmer. Reduce heat to medium-low, cover, and cook, turning pieces occasionally, until rabbit is just cooked through and tender but not dry, 30-40 minutes. Uncover and continue cooking until sauce thickens slightly, 5-10 minutes. Remove bay leaf, adjust seasonings, and serve with polenta, if you like.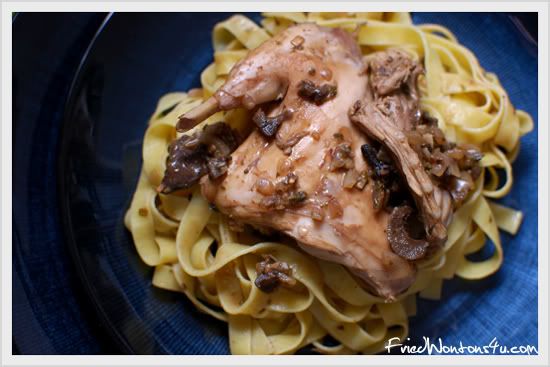 Related posts:
Battling the Winter Blues – Claypot Rice with Dried Seafood Topped with Chicken, Chinese Mushrooms, & Chinese Sausages