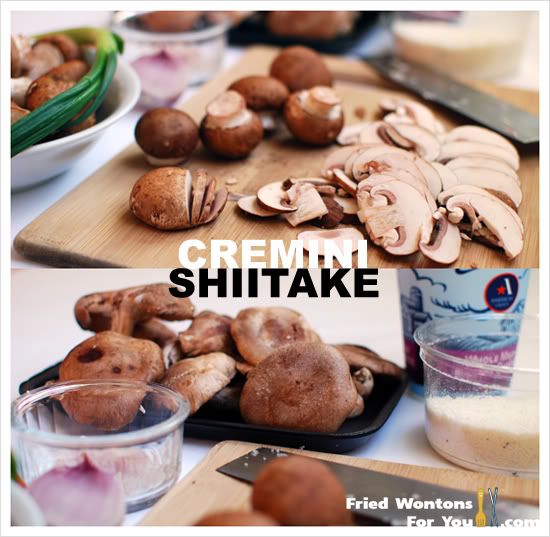 UPDATE: February's Beet 'n Squash YOU! winners are announce. Check out Gourmet Fury and She Simmers for the winners and all the participants entries. Congrats to Noodle Fever and Don from Foodie Prints on winning this month's fight! March is battle sweet potato. Can't wait!
I am very suspicious of people who tell me they hate mushrooms. I just don't think that is possible. The only time I don't like mushroom is when it's served raw in a salad, but other than that my favorite pizza topping is mushroom, 80% of the time I always add mushrooms on my burger, I love mushroom omelettes, sautéed mushrooms and onions goes great on everything,.….I just love mushrooms! When I found out January's Beet 'n Squash YOU! vegetable was mushroom the problem wasn't trying to figure out what to cook but I needed help narrowing down my list.
Two of favorite mushrooms are creminis and shiitakes. I grew up eating the dried variety of shiitakes and didn't even know it was possible to buy or cook with fresh ones until I was in my teens. Dried shiitakes have an intense earthy deep flavor and are perfect in braises and soups. Fresh shiitakes are less intense in flavor then the dried ones, but it still has that earthy quality. I love adding fresh shiitakes in a tomato sauce or simply grilled. Creminis, which are the older varieties of button/white mushrooms, are perfect when cooked with caramelized onion and topped on burgers and cheesesteaks.
After a few days of thinking I finally narrowed down my list. I wanted to make mushrooms with pasta. Not very exciting right? While there is nothing wrong with a simple mushroom and pasta dish, I love mushrooms in either a red or white sauce, I had to do something different. In comes the mentaiko!
Mentaiko spaghetti, or also known as tarako spaghetti, might not be a standard dish here in the US, but in Japan it is a very common pasta dish. Mentaiko is marinated roe of pollock and can be commonly found here in Korean supermarkets. My first taste of mentaiko spaghetti was S&B Spaghetti Sauce Tarako. It's an instant tarako sauce for your spaghetti. Inside were two packages. One was the sauce and the other was shredded seaweed. After you cook and drain your spaghetti, pour the sauce, mix, and top it off with the seaweed. It was quick, easy, and satisfying, but what's even easier is actually making the sauce from scratch. It's as simple as the instant stuff. Melt some butter, add a little olive oil, put in the mentaiko, toss in your spaghetti, and ta-da you have yourself a plate of mentaiko spaghetti. There's a few variety on how to make it, some recipes calls for white wine and kewpie mayonnaise, but I prefer this simple no fuss way.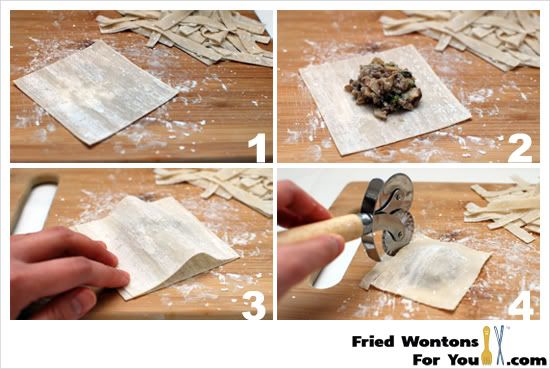 Most of the time mentaiko spaghetti is served plain with no other additional ingredients, but seafood, such as squid and shrimp, and vegetables like mushroom, are occasionally added in. That's where I got the idea for this dish. Instead of adding the mushrooms in the sauce, why not stuff it in the pasta and pour the sauce over.
The filling for the ravioli consist of a mix of cremini and shiitake mushrooms sautéed with shallots and scallions and then mixed with grated pecorino pepato and ricotta cheese. As for the ravioli skin, I used wonton wrappers.
Cremini and Shiitake Mushroom Ravioli with Mentaiko Sauce

These delicate raviolis go perfectly with the salty and spicy flavor of the mentaiko. The raviolis can be made in advance, just freeze them on a large baking sheet and then transfer to a container after they have harden and keep in the fridge until ready to cook.




Ingredients:

For Ravioli (makes about 18 raviolis)
1 pack of wonton wrappers
1/4 pound of cremini mushrooms
1/4 pound of shiitake mushrooms
2 tablespoon of shallots, minced finely
2 scallions (2 tablespoon for the fill, remaining reserve for the sauce), minced finely
1/4 teaspoon salt
2 tablespoon of pecorino pepato cheese (this can be substituted with pecorino romano or parmesan cheese), grated
1 tablespoon of ricotta cheese
For Sauce
2 sacks of mentaiko (add more if you like)
2 tablespoon of butter
2 tablespoon of olive oil
Shredded seaweed (optional)




Directions:

Makes sure your mushrooms are clean first. You can lightly brush the dirt off with a napkin. I like to run it over cold water quickly and then dry them with a napkin thoroughly. Once your mushrooms are dried, roughly chop them. You do not want them to be minced or cut in bite size pieces.

In a skillet, heat about 1 tablespoon of olive oil and add in your minced shallots and 2 tablespoons of minced scallions. Let it cook for a few seconds. Then add in your chopped mushrooms.

Let it cook down for a few minutes. When water starts to release, add the salt, and wait cook until all the water has evaporated. Set aside in a large bowl.

Made sure the mixture is cool before adding in cheese. When the mixture is at room temperature, add in your grated pecorino pepato cheese and the ricotta. Mix gently until everything is combine.

Open up the package of wonton wrappers. Discard the first sheet. That's usually the hardest sheet and will not form correctly when it's being fold.

Scoop about 2 teaspoon of the filling into the center of skin. Dip one of your fingers into a bowl of water and spread the water around the wrapper. Place a second wrapper on top of the first one and seal the two wrappers together by pressing down on the edges. Make sure there are no air pockets in the ravioli. Be gentle when sealing the raviolis. You do not want to squish the filling down.

After the wrappers are sealed, trim off the edges with a knife or fluted pastry wheel or a ravioli cutter.

Set them aside on a floured surfaced such as a large baking sheet or tray.

Continue wrapping until all the filling is gone.

When you are ready to cook your ravioli, begin by boiling a large pot of water that's salted.

In a another pan, a large skillet, add in the butter, the olive oil, and the remaining scallion. Cook until the butter has melted. Turn off the flame.

When your water has boiled, add in your ravioli. Do not add all the raviolis at once. Add them in batches so that they won't stick together. If you are cooking the ravioli right after it has been made, it does not need to be cooked for a long time. It should take about 3 minutes, or whenever the skin has become almose transparent. If you are cooking the raviolis straight from the freezer, it will take a few minutes longer.

While the raviolis are cooking, add in your mentaiko into the butter and olive oil sauce. You do not need to turn on the flame to do this. The sauce should be warm enough to warm up the mentaiko. Cut the mentaiko in half and with your knife scrape out the mentaiko into the pan. Mix it all around.

When your raviolis are done, add it to the pan with the mentaiko sauce. Gently stir and move them around and making sure the raviolis are well coated with the sauce.

Served them immediately. You can add shredded seaweeds on top of the raviolis if you like.
Related posts:
Battling the Winter Blues – Claypot Rice with Dried Seafood Topped with Chicken, Chinese Mushrooms, & Chinese Sausages